Current News

Professor Nandita Biswas Mellamphy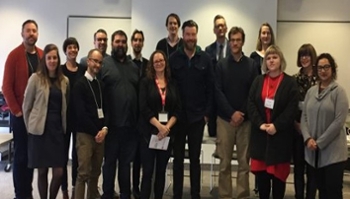 Professor Biswas Mellamphy, presented "Hacking the Data Body" at the Inaugural Workshop of The Posthumanism Research Network (PRN) at Brock University.  The institute seeks to investigate the status and limits of the "human" in an era in which multiple crises — global warming, superintelligent computers, genetic engineering, and massive species extinction, to name but a few — mark the precariousness of exclusively human-centred practice and thought.  The keynote address of this Workshop by Dr. William Brown from  the University of Roehampton on "Expressions and Images of the Post-human in Current Cinema, Propaganda and Politics" is based in part on works of Professor Biswas Mellamphy and other scholars.
---
Professor Marta Dyzcok – New Publication
Professor Dyczok contributes a chapter on Ukraine in a new publication by the Soviet and Post-Soveit Politics and Society (SSPS)'s Mass Media in the Post-Soviet World edited by Marlene Laruelle and Peter Rollberg. This collection covers the major trends of the media environment of the post-Communist world and their recent development, with special focus on Russia and the post-Soviet space. More details here.
---
Professor Zack Taylor – Panel Discussion Participation
On March 27, Professor Taylor will participate in a panel discussion on "Legacies of the Megacity: Toronto's Amalgamation 20 Years Later" organized by the Institute on Municipal Finance and Governance at the University of Toronto's Munk School of Global Affairs. Prof. Taylor will be joined by Shirley Hoy, former City Manager, City of Toronto; John Matheson, former Chief of Staff to Ontario's Minister of Municipal Affairs and Housing; and Alexandra Flynn, Assistant Professor, University of Toronto. 
---
Professor Christopher Alcantara – Western News Article
Professor Alcantara said going negative in an election has no effect in winning over voters and, in fact, has a negative effect on the attacker's own campaign. In the Western News Article "Attack Ads Become a Double Negative," he says going positive, finding star candidates to drop into specific ridings and getting the all-important endorsement, can push a party across the finish line. 
---
Professor Zack Taylor - University of Manitoba Lecture
On March 5, Professor Taylor will give an invited Food For Thought lecture at the University of Manitoba's Faculty of Architecture and City Planning Program on resilience thinking in urban planning practice. While in Winnipeg, he will also meet with the Partnership of the Manitoba Capital Region to talk about what the region can learn from international experience with different models of metropolitan governance.
---
Professor Radoslav Dimitrov – Redesigning EU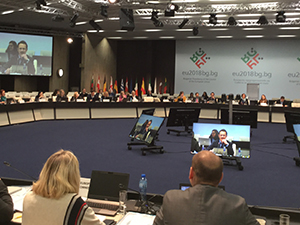 Professor Dimitrov is helping redesign the European Union's negotiating strategy in international climate negotiations in Brussels, Belgium and Sofia, Bulgaria. He made a presentation to the EU Commission and the EU climate diplomacy team and proposed a 10-point strategy in political communication. The EU accepted the proposal and established a formal group to implement his ideas.
---
Professor Don Abelson - Presentations
Over Reading Week, Professor Abelson traveled to London, UK giving a number of presentations on Think Tanks:
"Think Tanks and the Trump Presidency." Presentation to the Policy Research and Think-Tanks Research Seminar, University of Bath (London campus), London, UK, February 16, 2018.
"How to Measure the Impact of Think Tanks." Presentation to the OTT (On Think Tanks) Conference, London, UK, February 15, 2018.
 "Think Tanks, Expertise and the Crisis of the Liberal Order in the Trump Era." Presentation to the Centre for International Policy Studies (CIPS), City University London (CUL), February 15, 2018.
---
City of Sarnia and Local Government Program Partnership
Local Government students are working to solve pressing policy and administrative challenges with the City of Sarnia.  Policies include cannabis control, updating the local noise bylaw, and a communications plan for telephone and Internet voting; 17 graduate students in the London university's Local Government Program are tackling how to make them work.  Having another set of eyes is going to free up time for city staff, said Sarnia Deputy Clerk James Jenkins, and potentially give city officials different perspectives to consider. Read More on the partnership in this article in The Sarnia Observer.
---
Dr. Jerald Sabin - New Publication 
Dr. Jerald Sabin, SSHRC Post-Doctoral Fellow in Political Science at Western, has co-authored a new paper with Dr. Andrea Olive in PS: Political Science & Politics 51 (1): 183-189, entitled "Slack: Adopting Social-Networking Platforms for Active Learning." 

According to the abstract: "Online learning in postsecondary institutions has increased dramatically across the United States and Canada. Although research demonstrates the benefits of online learning for student success, instructors face challenges in facilitating communication, delivering course content, and navigating outdated and cumbersome technologies. The authors examine the use of a free third-party platform called Slack as a tool to facilitate better communication among students and faculty, enable the delivery of diverse and dynamic course content, and reach students in an online course that supports both independent and collaborative learning. The authors present a case study of Slack's use in an online second-year environmental politics course taught at a large Canadian public university. There is a significant and growing literature on how to best engage students in online learning, including active and social learning models as promising approaches to digital teaching. The authors argue that using collaborative social technologies such as Slack—which both replicates and integrates the online and social-media environments that students already inhabit—can assist faculty in meeting their pedagogical goals online. The article documents the instructors' experience in managing discussion and involving students in their online learning through active learning exercises. Best practices are examined." 
---
Professor Mansur - New Book
Professor Salim Mansur has written a new book titled The Qur'an Problem and Islamism: Reflections of a Dissident Muslim.  This book is about religion and politics, about Muslims and Islam, and the internal debate within the world of Islam about Islamic reform and what it entails. Mansur discusses the difference between Islam, as a world religion within the Abrahamic tradition of monotheism, and Islamism, as a political ideology and a theology of jihad, and how historically Islam as a religion was turned into the ideology of Islamism, or political Islam. The sacred text of Islam is the Qur'an, and the challenge of any text lies in how it is read, understood, and practiced.
---
Kenny Ie - Dissertation Defense
Kenny Ie successfully completed his PhD, "Prime Ministers and Public Expectations: A Study of Institutional Change", supervised by Professor Cris de Clercy. Congratulations Kenny!